Assess, Plan, Do, Review
The graduated approach towards the identification of children who may have SEND.
The SEND Code of Practice: 0-25 2015 identified the need for a graduated approach towards the identification of children who may have SEND. This is a circular model using assess, plan, do, review.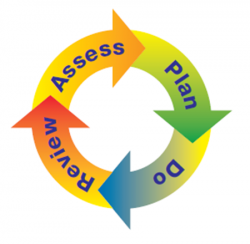 5.38 All settings should adopt a graduated approach with four stages of action: assess, plan, do and review.
5.4 Providers must have arrangements in place to support children with SEN or disabilities. These arrangements should include a clear approach to identifying and responding to SEN. The benefits of early identification are widely recognised – identifying need at the earliest point, and then making effective provision, improves long-term outcomes for children.
Assess
Universally all children will be assessed in the early stages. The Integrated Health Check should be used to provide developmental levels for Early Assessment Review.
Assessment includes considering all the information about the child's learning and development both within and beyond the setting, working with the setting SENCO and the child's parents.
This initial assessment should be reviewed regularly to ensure that support is matched to need.
Where a child continues to make less than expected progress, despite evidence-based support and interventions that are matched to the child's area of need, practitioners should consider involving appropriate specialists, the decision to be taken with the child's parents.
Early Years Sensory Processing Resource Pack    PDF,  1.5 mbOpens new window
Social Communiction Group booklet    PDF,  1.1 mbOpens new window
Early Communication Observation Profile    Word,  1.85 mbOpens new window
Play based assessment 1-2 years    Word,  134 kbOpens new window
Play based assessment 2+ years    Word,  230 kbOpens new window
Plan
The practitioner and the SENCO should agree, in consultation with the parent, the outcomes they are seeking, the interventions and support to be put in place, the expected impact on progress, development or behaviour, and a clear date for review. Plans should take into account the views of the child.
SEND Support Plan - early years
Do
The early years practitioner, usually the child's key person, remains responsible for working with the child on a daily basis. With support from the SENCO, they should oversee the implementation of the interventions or programmes agreed as part of SEN support.
Creating an enabling environment for a child with SEND
Tips to support the developmentally young child
Tips to support the development of inclusive play
Using pictures and symbols in early years settings
Ten top tips for positive behaviour
Review
Early years practitioners must review progress and provide parents with a short written summary of their child's development, identifying the child's strengths and any areas where their progress is slower than expected.
Guidelines for running a SEND Support Plan meeting
Guidance for completing a SEND Support Plan
SEND Support Plan - early years
Cover sheets - Request for Statutory Assessment/Request for top-up funding
Transition
Ensuring a smooth transition between early years providers and schools for children with SEND
Top of page