Information for parish councils and communities
We've gathered environmental and transport related information which we think parish councils and communities will find useful.
News and updates
Have your say on the Climate Action Survey
Submit your views by completing the online climate action survey, closes Sunday 7 March 2021.
If you have any queries about the survey please email: Environmentteam@leics.gov.uk
Litter picking heroes offered support
Leicestershire County Council is supporting local litter picking groups - often called Womblers – by providing practical support and equipment. If you are interested in this new scheme and to find out how to get this equipment for your group, visit: leicestershire.gov.uk/litter-picking or email Community.Litter@leics.gov.uk
Parishes and communities newsletter
Read the latest parishes and communities newsletter - winter edition 2021
List of additional funding sources  PDF,  370 kbOpens new window
Our winter response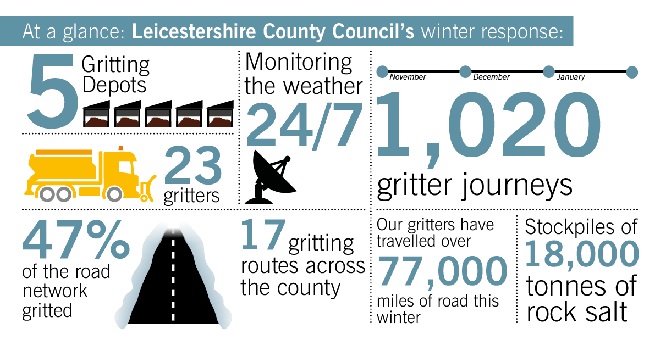 Cycling and Walking Strategy (CaWS) - online survey closes 10 March 2021
Work is now in progress to develop a Cycling and Walking Strategy (CaWS) which aims to help more people to make more sustainable travel choices, including increasing the number of journeys by cycling and walking. This will bring benefits in terms of creating healthier communities, improving air quality and reducing congestion and carbon emissions.
To inform development of the CaWS, an online survey has been launched asking for people's views on how they currently travel, what deters them from cycling and walking, and what improvements could be made which would encourage them to make more journeys by cycling or walking in the future.
As many people as possible are encouraged to complete the online survey and parish/town councils and communities are asked to promote this important engagement opportunity for people to help shape the strategy from an early stage. The survey runs for 6 weeks (Wednesday 27 January to Wednesday 10 March 2021).
The CaWS is currently planned to be presented to the county council's Cabinet for consideration and approval in summer 2021. Once in place, it will provide the framework to guide the development of projects and for seeking funding for projects, including via government bidding opportunities and from developers.
Complete the online survey by 10 March 2021.
Melton Mowbray Transport Strategy (MMTS) Engagement – ends 7 March 2021
An engagement exercise has just begun (20 January 2021) on a draft interim Melton Mowbray Transport Strategy (MMTS).
The MMTS, a key element of which is the Melton Mowbray Distributor Road, will eventually provide the framework for the delivery of a wider package of measures to support the growth of the town, enhance its environment and support healthier ways to travel. The engagement exercise closes on 7 March 2021.
Melton is a key centre for the provision of jobs, services, shopping and leisure for settlements across the borough; so, we are keen to hear views on the draft strategy not just from those who live and work in the town, but also from parish councils and residents across the borough. As Melton is a popular visitor destination, we would encourage all parish councils across the county to promote awareness of this exercise to their residents in order for us to gain as complete a picture as is possible about peoples' views on the draft strategy.
Melton Mowbray Transport Strategy and engagement process
Temporary closure - Bottesford Recycling and Household Waste Site 
The Bottesford RHWS, Normanton Lane will close temporarily from Monday 11 January 2021 for approximately 12 weeks for necessary improvement works to the drainage system together with maintenance improvements around the site. 
Melton Recycling and Household Waste Site, Lake Terrace, Melton Mowbray, LE13 0BZ (Thursday-Tuesday, 9am-5pm) is the nearest alternative during this period, where opening hours will be extended to six days a week to accommodate a possible increase in visitors.
Find up to date information on the closure or book an appointment on our Waste and recycling page.
Leicester and Leicestershire Strategic Transport Priorities (LLSTP) 
The Leicester and Leicestershire Strategic Transport Plan (LLSTP) document  jointly prepared by the County  Council and the City Council was approved by the County Council's Cabinet on 20th November 2020.
The LLSTP outlines the key long-term transport priorities that will support the future development and prosperity of Leicester and Leicestershire.
Leicester and Leicestershire Strategic Transport Priorities (LLSTP) - 2020-2050 PDF,  1 mbOpens new window
Take Charge of Zombie batteries
There is a campaign for the safe and environmental disposal of dead or unwanted batteries.
For more information see take charge of zombie batteries.
Dispose of batteries correctly and prevent waste site fires press release.
COVID-19 departmental update
Traffic Speed Surveys 
It was hoped that traffic speed surveys would commence in January 2021. However, due to the National lockdown this has been delayed, as the irregular traffic patterns during this time won't provide relevant and accurate data.  
For more information, visit the Affected council services page.
Winter planning
Our gritting crews are now on standby 24/7 to respond to the weather forecast. Further information on being prepared for winter travel and details of gritting routes and the resilient network see: Winter weather and Gritting routes
For travel information from the Met Office see: Driving in severe weather
BLUE campaign
We have now joined forces with the BLUE campaign and are the first council in the Midlands to join this campaign. Participants of the wildflower scheme will be provided with a recyclable blue heart symbol to communicate to their residents that rewilding is in process.
More information about the scheme (including an application form) can be found at Develop your own wildflower area.
Snow warden scheme
Calling for volunteers (training/equipment provided)
Email: group.support@leics.gov.uk 
Snow warden scheme guidance  PDF,  178 kbOpens new window
Update on HS2 from a Leicestershire perspective
Leicestershire HS2 update  PDF,  114 kbOpens new window
Also see: High Speed 2 (HS2) parish workshops
Street lighting columns and structural testing
See our frequently asked questions and a copy of the Licence Application Pack for attaching decorations and hanging baskets etc. for lamp posts:
Lamp post licence FAQ  PDF,  104 kbOpens new window
Guidance notes for attachments   PDF,  247 kbOpens new window
Non-destructive testing companies  PDF,  46 kbOpens new window
SHIRE Environment Grant 2020/21
We are offering grants of up to £3,000 for projects to reduce carbon and improve biodiversity. For more information see: Information, guidance and application forms.
Environment and Transport newsletter
Information and guidance
Roadworks weekly update
Blaby  PDF,  521 kb
Charnwood  PDF,  589 kb
Harborough  PDF,  292 kb
Hinckley and Bosworth  PDF,  538 kbOpens new window
Melton  PDF,  1.4 mb
North West Leics  PDF,  619 kb
Oadby and Wigston  PDF,  308 kbOpens new window
Biodiversity
View information about biodiversity for parishes and communities.
Biodiversity training - new dates (evening sessions)
More biodiversity training sessions are available. This training offers you the opportunity to engage with experts about the approach to biodiversity within your parish.
Course 1
11 March 2021 - 7:30pm-8:30pm​
18 March 2021 - 7:30pm-8:30pm​
25 March 2021 - 7:30pm-8:30pm​
Course 2
9 September - 7:30pm-8:30pm​
16 September - 7:30pm-8:30pm​
23 September - 7:30pm-8:30pm​
The training is split into 3 modules - you must be available on all 3 evenings during the times shown.
Email EnvironmentTeam@leics.gov.uk for bookings
Watch video for a previous biodiversity training session held on 10 July 2020. 
Password: 9D*$043b
Public rights of way
View information on public rights of way for parishes and communities.
Improving the Network
Highways on a page
Available soon.
Road safety measures scheme costs
Road safety measures  PDF,  554 kbOpens new window
Process for undertaking your own improvements
Guidelines for third party funding of highways schemes  PDF,  407 kbOpens new window
Parish clerks presentations
May 2020
LRALC May presentation  PDF,  128 kbOpens new window
For more information view the videos below:
January 2020
Environment and Transport update  PPT,  526 kbOpens new window
Tree management presentation  PPT,  4.75 mbOpens new window
September 2019
Environment and Transport update PDF,  265 kbOpens new window
Events and training
Workshops and training (including presentations from workshops and training we've run recently).
Workshops
High Speed 2 (HS2) parish workshops - Postponed
These workshops have now been postponed, due to the current lockdown and the impact of home schooling requirements in the small HS2 service area.
Whilst all our work is vital, it is felt the best approach is to focus our reduced capacity on time-critical elements of our programme, for example, responding to the Government Integrated Rail Plan (IRP) and support to regional partners.
Therefore, the upcoming parish workshops (topic 3-onwards) have been delayed by around six to eight weeks (dependent on the return of schools after February half term). This will have minimal impact on our current communications programme, in line with a delayed IRP from the government. 
To make sure that there is still an opportunity for parishes to voice and raise potential concerns or enquiries relating to HS2, the drop-in sessions every first Tuesday of the month will continue. 
For contacting the HS2 team email them at HS2@leics.gov.uk
Traffic management workshop
Traffic management workshop presentation - January 2020  PDF,  1.83 mbOpens new window
Planning workshop - available soon
Events planning
If you're planning an event, contact eventsnetworkmanagement@leics.gov.uk. Please give us 12 weeks notice. 
Discussion board
If you have any questions relating to highways, transport and the environment, please email: etdspecialprojects@leics.gov.uk  
Answers to any questions raised will be published here.
Useful links
Environment and transport committee reports
One.network - roadworks information
Report a road problem - including blocked drains and overgrown hedges.